Daily Tarot Pro
Upright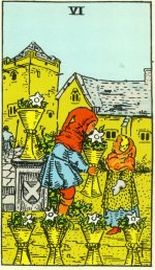 SIX OF CUPS. UPRIGHT: A card of the past and of memories of things that have vanished (e.g. looking back on childhood; past happiness, past enjoyment). Another interpretation reverses the foregoing meaning as follows: new relations, new knowledge, new environment, and sport in an unfamiliar surrounding. REVERSED: The future, renewal, that which will come to pass presently.


Deal Again
Buy Daily Tarot
New! Daily Tarot Pro Block for PostNuke and PHP-Nuke.
Look at our demo of this block directly above. It is the visitor's favorite. Helps with your ratings too! Visitors click "Deal Again" over and over to answer their questions. Click "Deal Again" above to try it for yourself!
The block comes with everything you need to install it in either PostNuke or PHP-Nuke (images, short and long definitions).
Click "Buy Now" to purchase your copy of Daily Tarot Pro Block for PostNuke and PHP-Nuke today.


$9.99

Instant Download
of Entire Script